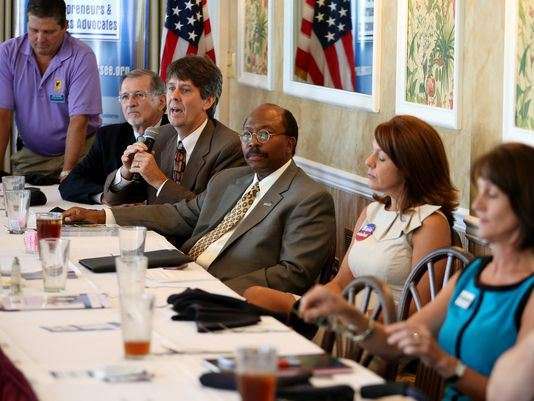 Estimaed Reading Time: 2 minutes
Posted On July 23, 2014
NEBA candidate forum sparks debate
 TaMaryn Waters, Tallahassee Democrat
Roughly a month remains before the conclusions of the primary election.
Former state representative Curtis Richardson, said "I guess I'm a very popular target today," and was grilled by City Commission Seat 2 opponents Diana Oropallo and David Riddle.
Oropallo, who described herself as nervous as she has at previous public appearances, questioned why Richardson chosee to run for this year's open seat instead of an open seat in 2012 "if you have such a burning passion to get back to the city of Tallahassee." The position is being vacated by City Commissioner Andrew Gillum, who's running for mayor.
Richardson disputed charges he's a career politician leveled by Oropallo by questioning why she first filed to run for School Board before switching races. Riddle questioned Richardson's campaign contributions and events he's sponsored in Gadsden County.
The forum, held at the Capital City Country Club, was also attended by three-time commission candidate and small business owner Steve Stewart who is challenging incumbent Nancy Miller along with School Board member Forest Van Camp and challenger and Deerlake Middle School teacher Alva Swafford Striplin.
NEBA, a group representing the business sector, also posed questions for candidates by its members. The nearly 100 in attendance raised issues that included improved public safety and more police officers, thoughtful government spending, a debate over development tax breaks and federal and state mandates on education.
Questions included whether candidates supported creating a new Community Redevelopment Agency district on North Monroe Street near Tallahassee Mall (similar to what's already in place downtown and the south side/Frenchtown areas), where they struck a balance between development and environmental standards and if they supported a strong-mayor position on the City Commission.
"I think it's a good way to get to know who's running and what they are about," NEBA Board President Terry Madigan said of the forum. "We had a pretty good crowd here today. ... I think people are very interested because there are not a whole lot of local forums that people can go to and hear all of these things."
One question posed to City Commission candidates centered around what programs they'd support to benefit small businesses.
Riddle said the city needs to return to basics and not make businesses jump through necessary hoops. Oropallo said she'd support a combination of approaches that focuses on permitting and local preference.
Miller said she'd pushed to have more local preferences in contracting.
"We've tried that for a year. It went away because it got tangled around the axle with some of our other preference programs. I would seriously like to see that come back," Miller said.
While Stewart agreed with Miller on supporting local preferences, he said he was befuddled by why the city's local-preference policy hasn't been fixed.
"Local preference was brought up a couple of years ago and it's just fallen by the wayside. It requires leadership," he said.
This article is reprinted with permission from the Tallahassee Democrat. The original article is here.