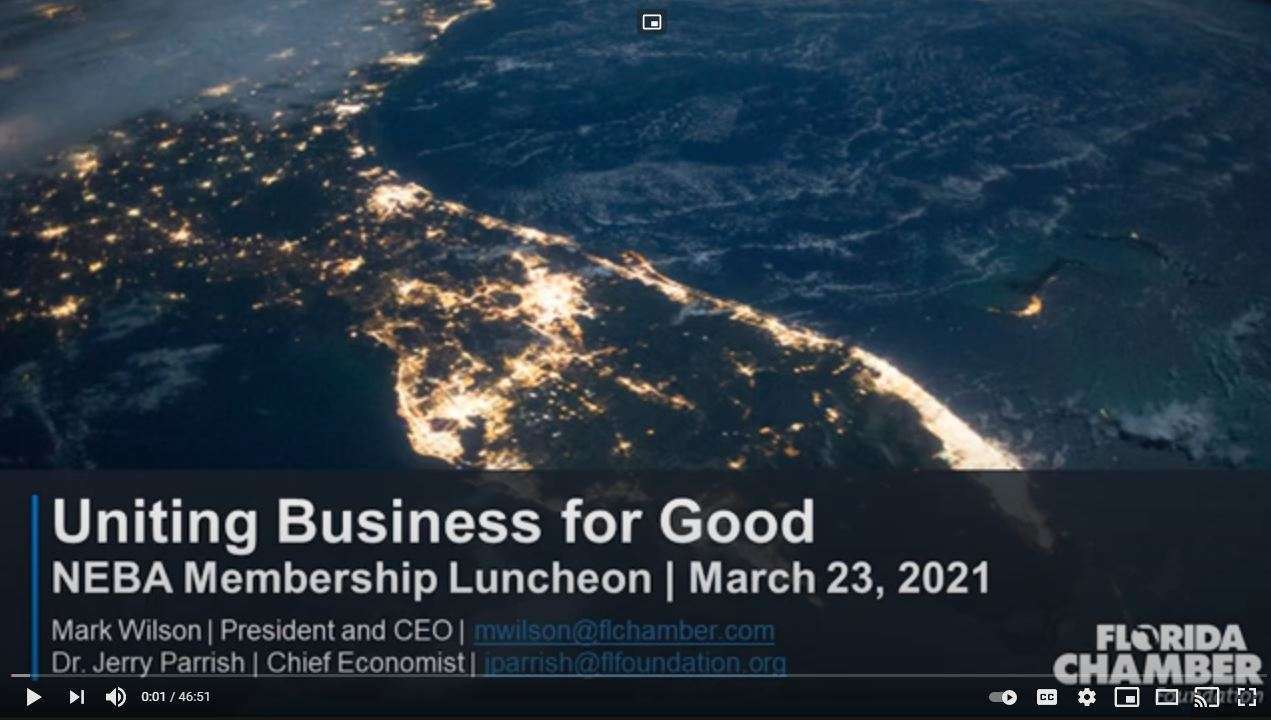 Estimaed Reading Time: 2 minutes
Posted On March 31, 2021
NEBA Meeting Summary: Mark Wilson of the Florida Chamber of Commerce and Dr. Jerry Parrish of the Florida Chamber Foundation
Our NEBA March luncheon hosted speakers Mark Wilson, President and CEO of the Florida Chamber of Commerce and Dr. Jerry Parrish, Chief Economist and Director of Research for the Florida Chamber Foundation. We learned in their presentations that Florida has one of the strongest economies in the nation with a lot of potential for growth – thanks to small business owners.
An example of how small business is driving our state and national economies:  1 in 11 new jobs created in the last five years in the United States was created in Florida. Chamber speakers discuss our Tallahassee business environment and how we must work together at the city and county levels to grow new jobs.
CHECK OUT OUR INTERVIEWS OF THE SPEAKERS AND NEBA MEMBER TESTIMONIALS:
ICYMI:  The video of the presentation in its entirety
Here are the links referenced in the presentation for your convenience.
Presentation in Powerpoint for downloading: www.flchamber.com/NEBA
Florida Gap Map: www.theFloridaGapMap.org
Florida Scorecard: www.theFloridaScorecard.org
IMPORTANT MESSAGE ON COVID PROTOCOLS FOR NEBA MEMBERS
First, to those who have renewed your 2021 membership with NEBA, thank you, we are excited about providing another great year of programs. To those who have yet to renew, please do so today and continue to be part of a voice that represents the area business community!
As our community continues to recover and re-emerge, we are committed to providing a safe environment for those comfortable attending in-person events. We've been taking all necessary protocols. This includes reduced seating capacity at tables to accommodate spacing concerns, food is served by workers (vs. self-serve like in years past), masks are welcomed while not eating or drinking.
We are so pleased to see more and more of you each month and look forward to seeing you at a NEBA meeting when you feel comfortable attending. However, until then, we encourage you to watch the programs live on Facebook or here on our website.
VIDEO SPONSOR
NEBA would like to thank this month's video summary and presentation sponsor by Metronet.  Be sure to visit their website for more information www.metronetinc.com.