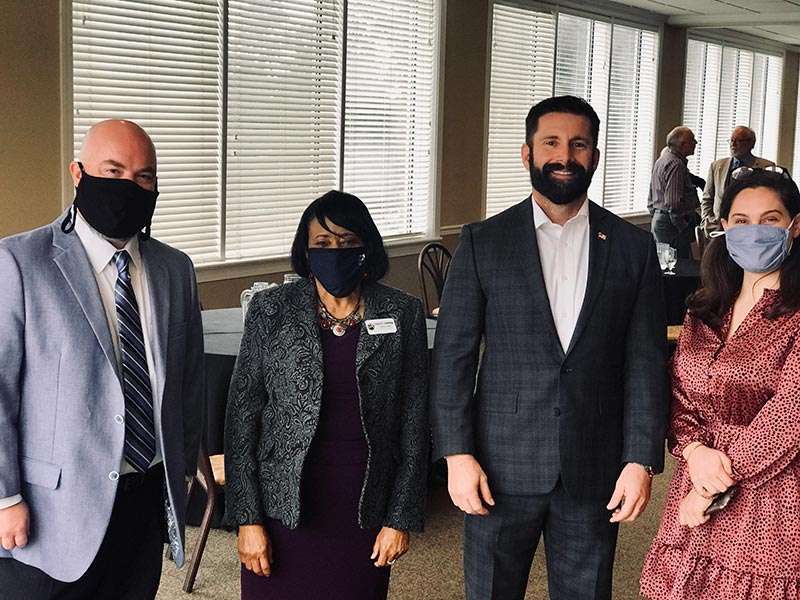 Estimaed Reading Time: 1 minute
Posted On February 04, 2021
NEBA January 2021 Meeting Recap: County Commissioner Carolyn D. Cummings, County Commissioner Brian Welch, and City Commissioner Jacqueline "Jack" Porter
NEBA kicked off our first 2021 membership luncheon with a great forum with our newly elected commissioners: County Commissioner Carolyn D. Cummings, County Commissioner Brian Welch, and City Commissioner Jacqueline "Jack" Porter.
NEBA 2021 KICK OFF!
Commissioners voiced their support for small business and recognized the roll we play in addressing the community's problems and challenges. Attendance at the Capital City Country Club was greater than expected, making for a robust forum underwriting a constructive exchange of ideas and questions.
NEBA leadership, members and guest commissioners all agreed that the conversation during the luncheon was a starting point. NEBA intends to be at the table to offer valuable insights and guidance to ensure economic solutions are part of the community calculus. Stayed tuned…
NEBA Board Elections
We conducted board elections during the luncheon and we are pleased to welcome back board members: David Kirk, Catherine Baer, and Mark Ryan. We also welcome new board members Don May and Chris Akins.
NEBA Membership Renewals Due
If you have not renewed your 2021 membership dues yet, please go online by clicking the link/button provided to ensure your continued support of NEBA in 2021. The board of directors and your fellow business owners appreciate your involvement and support. We are committed to offering continued value in programing and advocacy throughout the upcoming year.
NEBA February Meeting
Mark your calendars for February 23rd for our next NEBA luncheon with speaker to be announced.