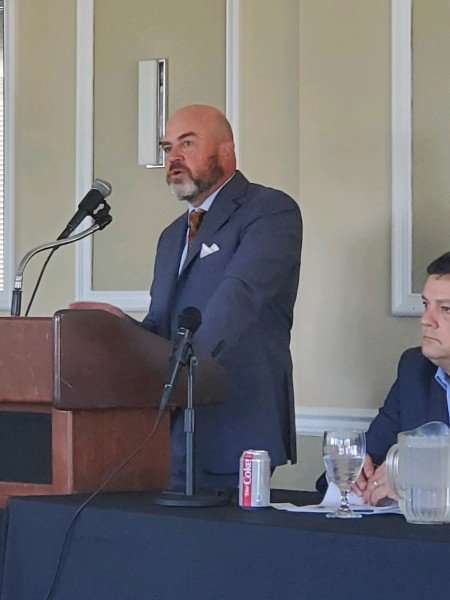 Estimaed Reading Time: 2 minutes
Posted On November 20, 2020
NEBA November Membership Meeting Recap: U.S. Markets: Post-Election and COVID-19
The Network of Entrepreneurs and Business Advocates (NEBA) recently held our final monthly membership meeting of the year on November 17th at the Capital City Country Club. Our speaker Brett Ewing, owner and chief market strategist for First Franklin Financial Services, a boutique wealth management firm serving the retirement and investment needs of families, individuals, nonprofits, and businesses in Tallahassee for more than 50 years.
Mr. Ewing focused his comments on 3 key areas: the dichotomy between the economy and the stock market; the election and its impact on future policies; and what looks good going forward considering where the markets are today.
Mr. Ewing reiterated that "the stock market isn't the economy" and that while there are many trends that can be identified in the markets based on, or even predicting to some degree, future economic factors; "the stock market always looks ahead and pays attention to the trajectory of the economy, not the current state". Obviously, the COVID pandemic was unprecedented both from a health and economic standpoint, where significant drops in GDP and employment were quick and severe. Fortunately, the massive stimulus spurred the market recovery, as did the Federal Reserve making the appropriate adjustments and preventing further fallout by instilling confidence against major failures.
As for the elections, turnout was tremendous and once the dust settles, the market will respond to balance, with no one party in control of Congress and the White House. Assuming the US Senate does not change party hands, that balance will restrict certain major policy changes, potentially including Biden's tax plan addressing capital gains and corporate taxation. It is likely biggest policy changes will come from Executive Orders and likely in areas of trade, industry regulations and international affairs.
Looking forward, Mr. Ewing noted that indexing had created "crowding in the big tech stocks" and was only accelerated by the pandemic. He pointed out that the top 5 largest stocks (Apple, Microsoft, Amazon, Facebook, and Google) account for 20% of the market cap of the S&P 500. So, while investors hid in tech and healthcare, the potential for a vaccine and election are signaling a shift away from growth to value stocks, in particular, small and medium cap options in industrial and energy sectors.
Next Meeting
There will be NO meeting during the month of December. We will return for the January 26, 2021 meeting with newly elected members of the City and County Commissions. Enjoy the Holidays with family and friends and stay safe and we will see you in 2021!