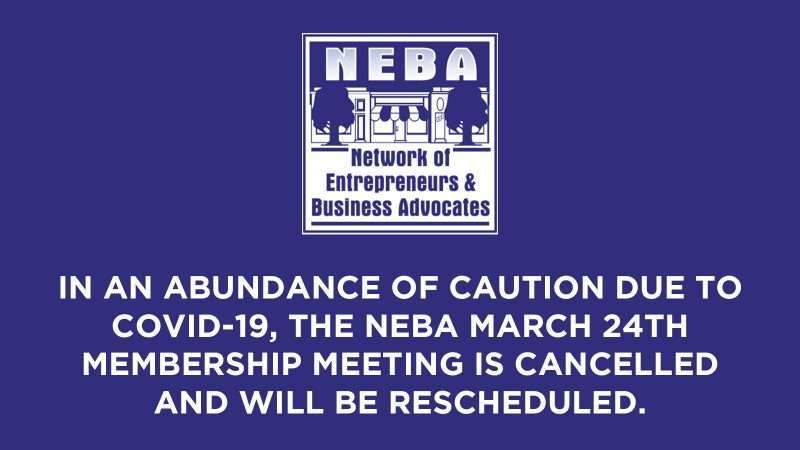 Estimaed Reading Time: 1 minute
Posted On March 14, 2020
NEBA March 2020 Meeting: Cancelled
NEBA has been carefully monitoring COVID-19 and in an abundance of caution and to promote the safety of the citizens of our community, while also being sensitive to the fact that many of our member business owners and professionals are likely dealing with the unusual circumstances related to this pandemic, the NEBA Board of Directors has decided to CANCEL the March 24th NEBA Membership Meeting and will work to reschedule our planned guest, author Peter Schweizer, for a future meeting.
We apologize for any inconvenience this decision may cause, however, we feel it is the appropriate course of action considering the circumstances and we appreciate your understanding.
We also want to share some Covid-19 and Business resources available:
The Business Damage Assessment Survey is activated and can be taken online at https://floridadisaster.biz/.
For the most up-to-date information about COVID-19 in Florida, please visit the Florida Department of Health's dedicated COVID-19 webpage. For any other questions related to COVID-19 in Florida, please contact the state's dedicated COVID-19 Call Center by calling (866) 779-6121. The Call Center is available 24 hours per day. Inquiries may also be emailed to COVID-19@flhealth.gov.
The Center for Disease Control continues to update guidance on COVID-19 at https://www.cdc.gov/coronavirus/2019-ncov/index.html.
Thank you and stay safe!
Doug Wheeler
NEBA President