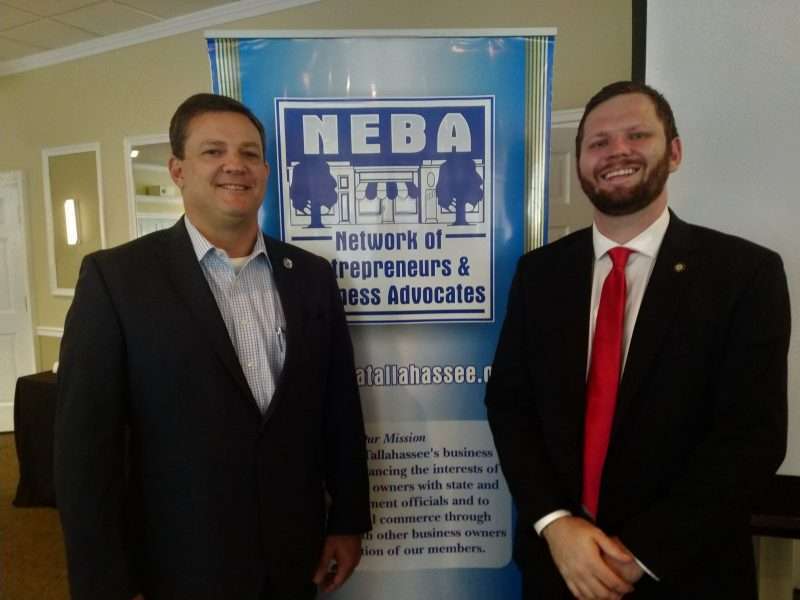 Estimaed Reading Time: 2 minutes
Posted On October 02, 2019
NEBA September Meeting Recap: City of Tallahassee Commissioner Jeremy Matlow
City Commissioner Jeremy Matlow spoke at NEBA's monthly luncheon on Tuesday, September 24.  The first-term Commissioner said he really wanted to "start from scratch" and took the group through a timeline of his first months in office.  A few highlights:
One of the first issues he pushed for on the commission was expanded accessibility for the public. Previously doors in City Hall were locked, you couldn't meet with anyone without an appointment, and public speaking during commission meetings was strictly limited. Matlow said now you do not need an appointment to visit City Hall (he has office hours every Tuesday from 11:30 – 2:30). Other changes he supported included speakers having more time to speak on issues at meetings and expanded mailings to those impacted by property use changes (tenants AND property owners now receive notices). He also said that select commission meetings have been moved to alternate sites, and these meetings have proved very popular with the community.
He touched on what he called the "era of no," when the proposed location for TPDs new headquarters was rejected, the mid-town parking garage and when he pushed back on Blueprint spending priorities.
Regarding Blueprint, Matlow doesn't see why residents, many of whom voted for the tax years ago, can't ask for changes now as specific traffic impacts are revealed.
He called for the Office of Economic Vitality (OEV) to focus more on locally owned businesses and their needs. For example, he thinks the OEV should be involved in helping streamline the permitting process.
Upcoming issues that he feels will need work on building community consensus: marijuana penalties; crime & gun violence; selection of the new TPD Chief & site selection for headquarters; and the city ethics commission.
In his remarks, and in answering audience questions, Matlow stressed that he is trying to create systems to fall back on and/or processes so citizens can get their concerns addressed.  For example – for years Tallahasseeans have complained about permitting, and difficulties in opening a new business.  Matlow is sending a survey to every new business that's opened in the last 4 years requesting feedback on the process.  He hopes this will give him actionable issues, based on real-time information.
If you'd like to follow up with him on any of these issues, or have something else on your mind: he is in his office every Tuesday from 11:30 – 2:30, so stop on by!