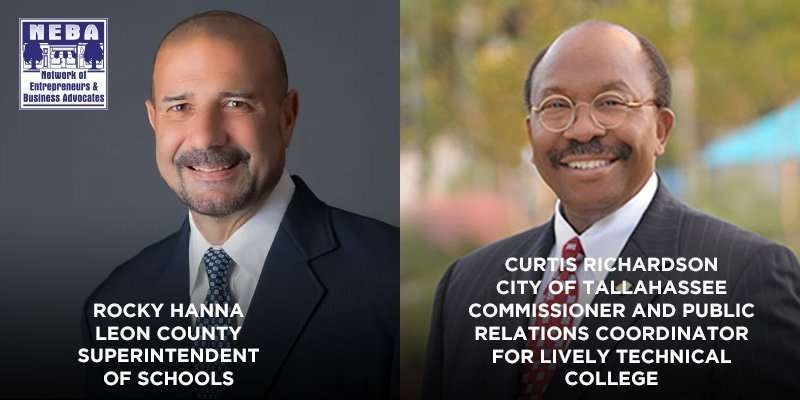 Estimaed Reading Time: 2 minutes
Posted On July 02, 2019
NEBA May Recap: Rocky Hanna and Curtis Richardson
NEBA's June 25 meeting topic, trade school opportunities, was presented by Leon County School Superintendent Rocky Hanna and Curtis Richardson, City of Tallahassee Commissioner and Public Relations Coordinator for Lively Technical College.
Hanna kicked off the meeting by outlining his 4 major initiatives as Superintendent:  pushing more money back into schools; reducing debt; partnering with private providers to intervene earlier in children's lives; and finding a way to make vo-tech training more relevant.
To help with this last initiative, he hired Curtis Richardson, who Hanna said "seemed to already be involved in anything to do with kids and education anyway."  Richardson said that his focus at Lively is to promote career and technical education in our community.  One of the first steps was to meet with TCC officials and form a mutual agreement to not compete or offer redundant programs.  The next step was to change Lively Technical Center's name to Lively Technical College.  As Richardson explained it, "We could get kids on board with our job-ready training but parents want their kids to graduate from a college."
Richardson explained that Lively is affordable, and financial aid, PELL grants, Bright Futures scholarships are all available to those with a high school degree, or GED.  They offer classes in everything from welding (graduates start off with $125,000+ salaries) to barbering, culinary, HVAC, digital design, and they have a burgeoning aviation program too.  They are producing a skilled workforce with certificates or licenses allowing them to work anywhere in the US, and boast a 95 – 100% job placement rate for graduates.
At the conclusion of the meeting NEBA awarded their inaugural Entrepreneurial Scholarship to Nick Cerasoli, a senior at Leon High School.  The $1,000 scholarship will assist Cerasoli with tuition costs at Tallahassee Community College, where he plans to major in Business/Construction.