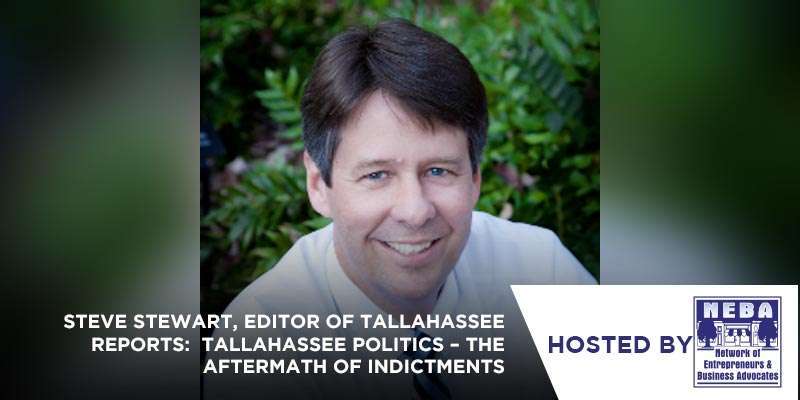 Estimaed Reading Time: 2 minutes
Posted On July 24, 2019
NEBA July Forum Recap: Tallahassee Reports Publisher Steve Stewart
By Patrick Slevin, NEBA Board Member
Tallahassee Reports Publisher Steve Stewart spoke at our July luncheon, giving his analysis of the after-effects of indictments in City of Tallahassee Government. The FBI investigation was at the forefront of members minds. Steve was sure to clarify that anyone who is under investigation is presumed innocent. Stewart proceeded to discuss how the initial subpoena and indictments have made a lasting impact on our community, even if there are no further arrests or convictions:
We have a new commission in place in part to Commissioners Ziffer and Miller deciding not to run again.
We have a new city manager after Mr. Fernandez stepped down due to ethics complaints.
The Tallahassee Democrat engaged in more investigative reporting that didn't always favor city hall (as Stewart suggested had been their past practice).
Our new mayor and commissioners asking tough questions; Stewart gave as an example Commissioner Matlow recently calling attention to the fact that Blueprint monies have been allocated for projects far outside of the scope envisioned when we first voted to extend collection of this tax.
The electorate is even more cynical of the process and elected officials' behavior. Stewart said the media can possibly have a hand in changing this attitude for the better.
Members asked questions to include the search for a new police chief, and whether Stewart thinks the current search committee is representative of our community. Stewart was non-committal on that but agreed there should be a Citizens Police Board & Electric Utilities Oversight Board. Steve also raised concerns of a national trend that's affecting our community, which is the rise of divisive, national debates here at home. He reminded us that you can find the truth of a matter by researching and viewing multiple media sources, not just those that agree with your viewpoint. It was discussed that trends in local government corruption may be the product of newspapers across the nation laying off staff and scaling back resources (not enough journalists for oversight).
Many members were subscribers of Tallahassee Reports and NEBA thanked Steve Stewart for keeping diligent in his community coverage that now will expand with the addition of several news interns in the fall.