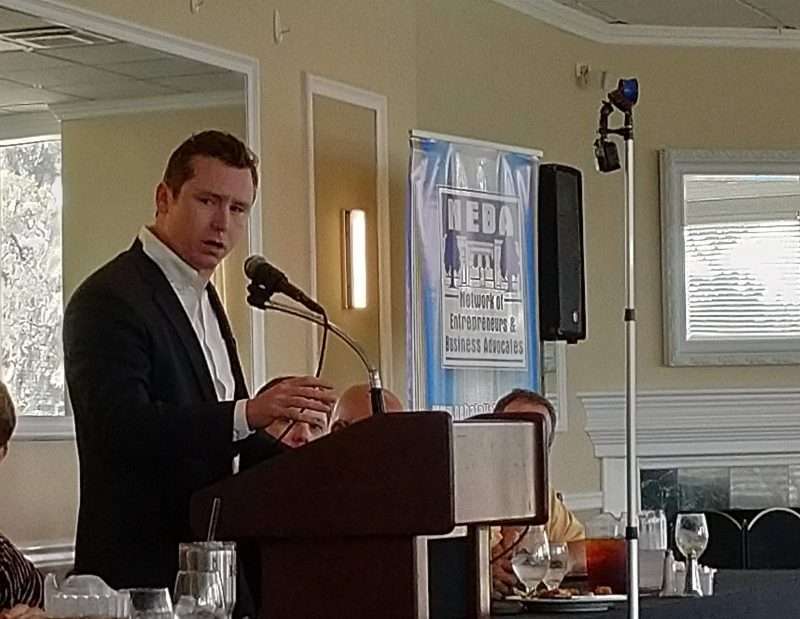 Estimaed Reading Time: 3 minutes
Posted On April 02, 2019
NEBA Forum Recap: Slaton Murray of NAI TALCOR: Development Trends in Tallahassee
Submitted by NEBA Board Member David Kirk
Slaton Murray, with NAI TALCOR, is a real estate broker and discussed development trends in Tallahassee and what new projects were in the works and on the horizon. Slaton also serves on the Downtown Improvement Authority Board of Directors, Access Tallahassee's Advisory Council, and is a shareholder in Urban Tallahassee, a trusted communication source for real estate projects in our local area. As a native Tallahassean, he graduated with his real estate degree from FSU.
His discussion began with the various new businesses and real estate developments over the next 18 months in various sections of town, what's going on in the housing market in the more urban areas, student housing, and hotels.
Beginning in the northside of town, we can expect to see a Dave & Buster's concept called Hanger 38 which will likely open around the 2nd week of April. This is a restaurant/amusement facility. Market Square will eventually boast a new luxury movie theater called Cinepolis that will be much like CMX at Fallschase. The few remaining businesses in that property will likely move to the north end of the property. The Centre of Tallahassee shifted from retail to office space and is soon to house almost 3,000 State workers in various offices. Northwood Mall has been under major renovation and it's vacant office space now owned by the lender.
Midtown has some new businesses coming and a few old ones leaving but the major development there will be the old TMH office building which is going to be renovated into office and retail space. Another medical marijuana shop will also arrive along with a Korean BBQ.
Out east TMH is working on the MT Mustian Surgical Center, TOC is working on a new location and the Canopy development is well underway with detached housing, apartments, and a senior living facility. Across from the Subaru dealer you might have seen a new Jimmy Johns finishing up construction along with some other storefronts under construction. At the corner of Miccosukee and Capital Circle NE, Chow Time has been under construction for a while. Just down the road where the old Saltwater Seafood restaurant will become Glory Days, a restaurant and bar. Here's hoping that location proves luckier for this business than others located there.
South Monroe, Cascades Park, and Downtown probably have the most going on and planned as we continue to aspire to become a walking downtown. Proof moving to South Monroe from Rail Road Square and Happy Motoring have both been responsible for greater daily traffic in the area. Further development at cascades, Rail Road Square, and Downtown areas include more, "Market Rate," housing, some detached housing going towards Myers Park, student housing, and more hotel rooms.
Slaton feels that Washington Square in Midtown and Cascades park are probably the most exciting areas for development right now. He expects the developers that will be working in Washington Square will be able to provide parking but Jeremy Matlow mentioned that Ride Shares like Uber and Lyft are booming and so questions the real need to increase parking in those areas. He also mentioned how old State buildings that are obsolete are being demolished for new development and that it is more cost effective than to repair some of the older ones.
Commissioner Jimbo Jackson mentioned that the school system was working on alternative pathways for high school students to move into the trades where they could work in the fields of all these new developments. One attendee, though, was concerned about the effect on the employment force in the actual low wage jobs that are being created once the developments are completed.
In summary, Tallahassee is trying to create a walking urban landscape where people can live and work in the downtown area. More restaurants, hotels, retail, and night life will bring higher rents for the convenience. Real estate prices, however, are not conducive to bringing in manufacturing, which some considered to be a negative. But Commissioner Matlow mentioned that Innovation Park was trying to be the manufacturing hub. Finally, the City is working on making the airport an international distribution hub which would be beneficial for corporate and personal travel as well.
Below are pictures of the presentation.