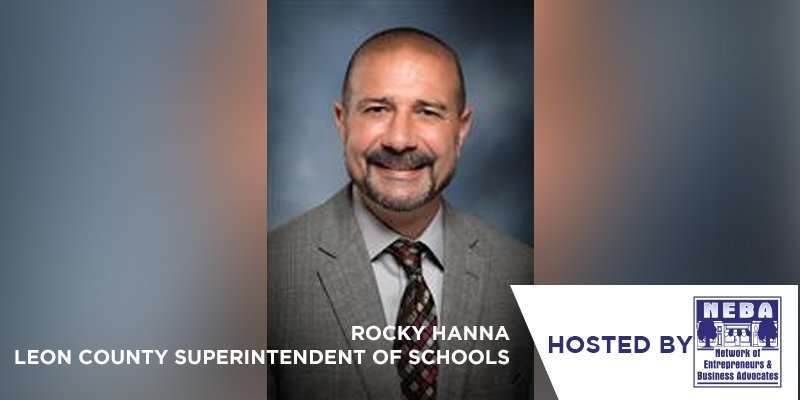 Online ticket sales have now closed. If you did NOT purchase a ticket you may watch a live video feed from on our Facebook page.
Born and raised in Tallahassee, Superintendent Rocky Hanna attended Gilchrist Elementary School, Raa Middle School, and Leon High School and has pretty much been involved with Leon County Schools for most of his active career in education.
Leon County Schools like those around the country are working to mitigate issues surrounding the COVID-10 pandemic. These are complicated issues involving the students, their education, and in some cases their health. Involving families with home learning challenges. And involving the business community as many of those being impacted are also employees, adding additional stresses to employers and the economy.
Hanna continues to work with local stakeholders and have discussions about what an August return to school might look like for Leon County, which according to Hanna, could include students returning full-time to the classroom in August, half of students returning to the classroom as schools operate at half-capacity, half of students returning to the classroom as schools operate at half-capacity, and then "retreat" home if there's a second wave of coronavirus infections and students continuing to work remotely.
"We all want all 34,000 students back in our brick and mortar schools with face-to-face instruction," said Hanna. "But just in case it doesn't, we need to have a plan in place."
From drive-thru graduations to Friday night football to getting 34,000 students back to school, join with business leaders from across the community to learn about how Leon County Schools are addressing all the challenges brought on by COVID-19.