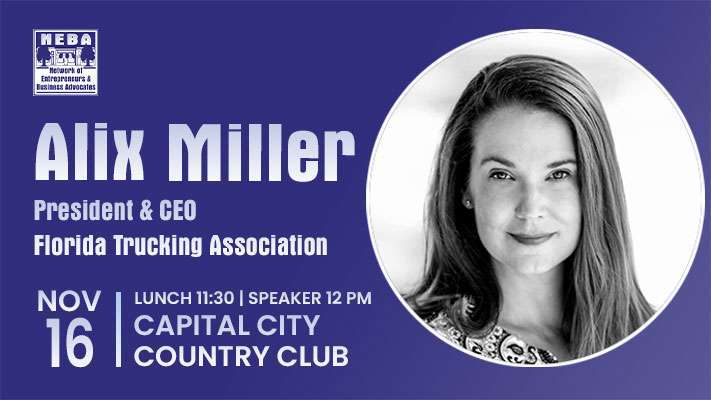 Our national supply chain is compromised and backlogged, which threatens the upcoming holiday season. The nation's truckers are center stage of this national crisis and key to our economic vitality and moving our commerce forward. Be sure to attend our next NEBA luncheon to get firsthand insights and knowledge where Florida's truckers impact this growing national concern.
Come hear Dr. Alix Miller, President and CEO of Florida Trucking Association talk about supply chain disruptions and the important role the trucking industry plays not only in that solution but our daily home and work lives in general. Dr. Miller has served on several statewide committees, including FDOT's Florida Transportation Plan-Strategic Intermodal System Committee; FDOT Innovative Technology Deployment Team; Florida Freight Advisory Committee; and the Florida Fruit and Vegetable Association Supply Chain Committee. Nationally, she serves on American Trucking Associations' Communications and Public Image Committee; Emergency Management Task Force; and the Executive Intermodal Group. Miller holds a Bachelor's degree from Tulane University and both an MFA and Ph.D. from Florida State University. In 2020, Florida Senate President Bill Galvano appointed her to serve on the Florida Council on Arts and Culture and is a member of the Board of Directors for the Tallahassee Ballet, a personal passion for Miller.
The Florida Trucking Association is one of the oldest and most respected associations in the state—promoting and protecting the trucking industry for almost 90 years. FTA is the sole state liaison between the trucking industry and the legislative, regulatory, and judiciary branches of state and federal government. The FTA represents every sector of trucking: from agriculture, auto transport, LTL private fleets; corporations relying on trucking to move goods; to manufacturers, banking, insurance, and law firms that provide services to the industry.
Costs for the luncheon are $20 for members, $25 for guests. The buffet line opens at 11:30 and the program starts at 12 PM.
Form submission is now closed. You may show up and pay at the door.