NEBA Issues Forum: Amendment Two – Minimum Wage, with Carol Dover and Geof Weldon
October 27, 2020 @ 11:30 am

-

1:00 pm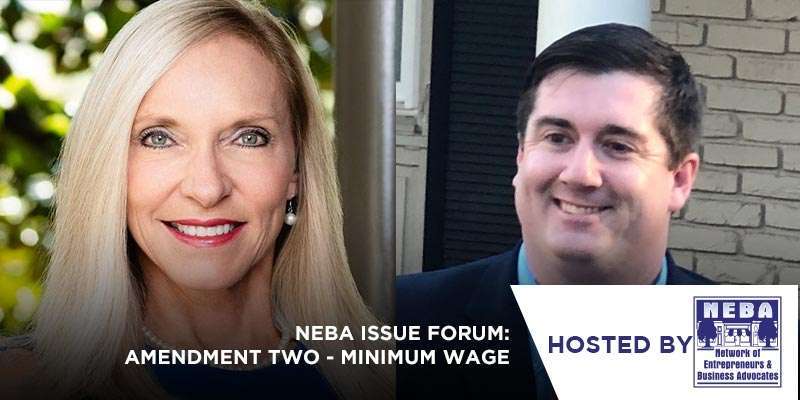 The Network of Entrepreneurs and Business Advocates (NEBA) will hold our monthly membership meeting on Tuesday, October 27 from Noon – 1:00 pm at the Capital City Country Club.
Our October program will focus on the proposed state Constitutional Amendment increasing Florida's Minimum Wage to $15/hour. Amendment 2, sponsored by Orlando trial attorney John Morgan, seeks to raise Florida's minimum wage to $10.00 per hour effective September 30th, 2021 and each September 30th thereafter, the minimum wage shall increase by $1.00 per hour until the minimum wage reaches $15.00 per hour in 2026. From that point forward, future minimum wage increases shall revert to being adjusted annually for inflation starting in 2027.
Carol Dover, President & CEO of the Florida Restaurant & Lodging Association, will present concerns over what this amendment will mean to businesses across the state, with impacts across many industries, large and small. Dover fears business owners will be forced to make changes to accommodate a 77% increase in labor costs which could include reducing the number of employees, reducing the hours employees work, increasing costs for consumers, or even eliminating entry-level positions.
Joining Dover will be Geof Weldon, owner of the Shoe Box, doing business right here in Tallahassee for more than 40 years! Geof will provide a local small business perspective on the impacts the amendment could have on his business and employees.
Critics like the Florida Chamber believe the minimum wage hike would "give businesses more reason to turn to automation, make it harder for teen workers to get jobs and encourage some businesses to leave Florida to avoid having to pay workers more than minimum wage in nearby states." Georgia and Alabama for example both use the federal minimum wage of $7.25 per hour.

NEBA members should have strong concerns over this proposed amendment and its impact on businesses, and particularly with so many businesses already hurting due to the COVID-19 pandemic. Come get the facts and be an informed voter on this important issue in November!

Costs for the luncheon are $20 for members, $25 for guests; the buffet line opens at 11:30 and the meeting will start at 11:45. For more information, email info@nebatallahassee.org.
Online ticket sales are closed. You may show up and pay at the door with a credit/debit card or exact change.