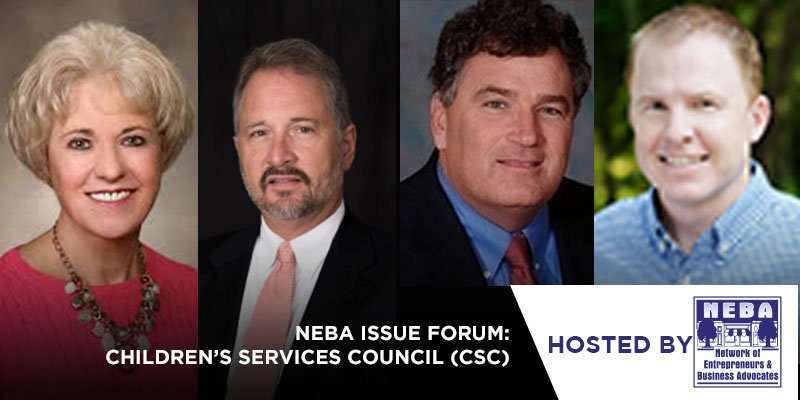 (Only 50 in-person tickets are available (AND MUST BE PURCHASED ONLINE) however to address concerns some may have about in-person meetings, this event will be recorded for post-event viewing on our Facebook page and NEBA website)
We're back! The Network of Entrepreneurs and Business Advocates (NEBA) will hold our monthly membership meeting on Tuesday, September 22, 11:45 am - 1:00 pm at the Capital City Country Club.
 Our September program will focus on the proposed Children's Services Council (CSC), with discussion and perspectives from both sides of the issue. Join us on September 22nd for a pro/con panel on the CSC, which will be on the ballot in November. This is an important issue for our community, one that if passed, comes with a tax increase. Come learn about its potential impacts on our community from Emily Fritz and Terry Madigan (Oppose) and Jon Moyle and Tom Derzypolski (Support).
NEBA members have already expressed strong concerns over this proposed issue and its impact on businesses, and particularly the timing with so many businesses already hurting due to the COVID-19 pandemic. Come get the facts and be an informed voter on this important issue in November!
Costs for the luncheon are $20 for members, $25 for guests; the buffet line opens at 11:30 and the meeting will start at 11:45. For more information, email info@nebatallahassee.org.

If you have not yet "Liked" our NEBA Facebook page, do it now and stay tuned for more information on this and other events as well as updates on issues of importance to the business community.
Online ticket sales are now closed. If you missed the opportunity to purchase a ticket you, can watch the recorder version of the meeting when we post it.