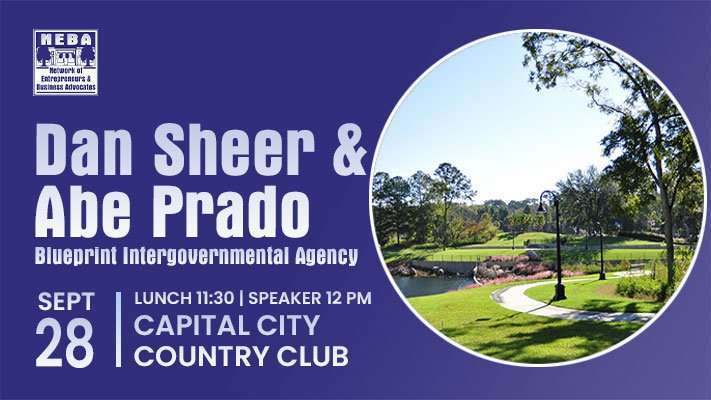 NEBA SEPTEMBER 28th LUNCHEON: NEBA MEMBERS TO GET UPDATE ON MAJOR COMMUNITY PROJECTS FROM BLUEPRINT INTERGOVERNMENTAL AGENCY
Join us for the September 28th Membership Luncheon with our featured guests Dan Sheer and Abe Prado from the Blueprint Intergovernmental Agency, who will discuss some of the biggest infrastructure projects across Leon County.
The Blueprint Intergovernmental Agency (IA) is a joint City-County agency within the Department of Planning, Land Management and Community Enhancement (PLACE). The City of Tallahassee and Leon County created the joint Department of PLACE to emphasizes the desire to create a livable, sustainable, and economically vibrant community through the coordinated efforts of the Planning Department, Blueprint IA and the Office of Economic Vitality. The IA Board, comprised of the City and County Commissions sitting as one body, provides direction to the Agency, which operates under the guidance of the Intergovernmental Management Team – the County Administrator and the City Manager.
Blueprint has positively impacted the community through the implementation of a variety of infrastructure projects, some of which have become iconic features of the community like Cascades Park, and others that do not carry such high profile like Capital Circle widening and Franklin Boulevard projects.
With thirty-one projects totaling more than $500 million in progress or planned over the next 5 years, Dan Sheer, Design and Construction Manager, and Abe Prado, Project Manager, will bring NEBA members up to speed on the broad scale of these projects and the impacts to the community. This is includes laying out projects ranging from the Northeast Gateway (Welaunee) project to the Lake Jackson Greenway to the Airport Gateway to Northeast Corridor Connector (Bannerman Road widening). They will also address how these projects improve safety, reduce traffic congestion, and add hundreds of acres of open/recreational space. 
LUNCHEON REGISTRATION
Register today to reserve a seat at our Covid-friendly venue at the Capital City Country Club on Tuesday, September 28th from 11:30 a.m. to 1:00 p.m.
Online ticket sales have closed. You may show up and pay at the door.