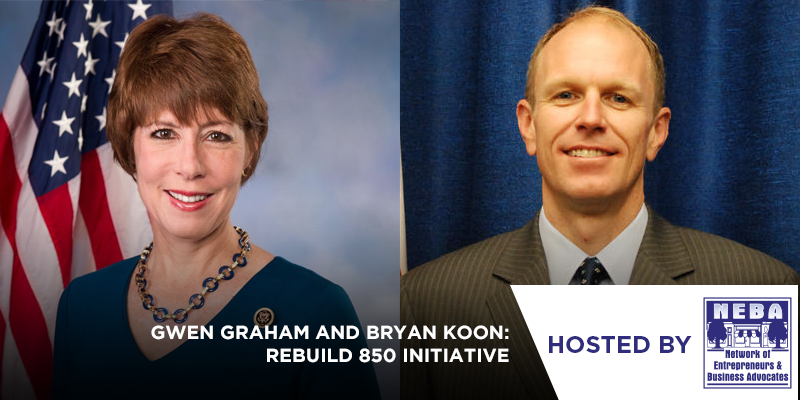 The Network of Entrepreneurs and Business Advocates (NEBA) will hold our monthly membership meeting on Tuesday, February 26, 12:00 pm – 1:00 pm at the Capital City Country Club.
Our speakers will be former U.S. Rep. Gwen Graham and Bryan Koon, former Director at the Florida Division of Emergency Management and current IEM Vice President of Homeland Security and Emergency Management.  Their topic will be the Rebuild 850 initiative, which Graham co-chairs along with GOP former Florida House Speakers Allan Bense and Will Weatherford.
Rebuild 850 urges people to donate, volunteer, and invest in the region hit hardest by the storm, the Florida Panhandle. The organization attempts to coordinate the efforts of various groups such as Volunteer Florida, the Florida League of Cities, the American Red Cross, and many others.
Costs for the luncheon are $20 for members, $25 for guests; the buffet line opens at 11:30 and the meeting will start at noon. For more information: email info@nebatallahassee.org.
Online ticket sales have now closed. You may show up and purchase a ticket at the door.