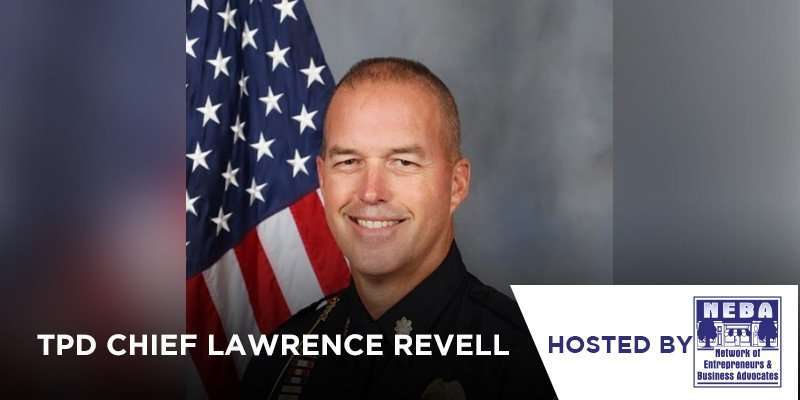 The Network of Entrepreneurs and Business Advocates (NEBA) will hold our monthly membership meeting on Tuesday, January 28, 12:00 pm – 1:00 pm at the Capital City Country Club.
Our first meeting of 2020 will feature Chief Lawrence Revell, Tallahassee's new Chief of Police. Revell brings extensive field and managerial experience to the job. During his career with TPD, he has worked in nearly every division, including patrol, TAC, high-risk offenders, and financial crimes. Most recently, he served as the Major overseeing the Criminal Investigations Bureau with 46 sworn officers and a $7 million budget. A hallmark of his tenure in the position was the 100 percent clearance rate for homicides his team achieved during 2018. Revell has deep ties to Tallahassee, especially the city's south side, where he attended Nims Middle School and Rickards High School, and graduated from Florida A&M University.
During the December 26th announcement at TPD Headquarters, Revell stated his "top priorities were community, positive change within the department and collaboration with law enforcement partners." He indicated he will hold community meetings across town and start a citizen's advisory committee to gather information, "we're going to have real conversations on real issues." Acknowledging challenges, Revell also stated that "officer recruitment, retention and diversity are big issues for the department that have to be addressed immediately.
Come out and meet new Police Chief Lawrence Revell and hear about his plans to address critical issues within the city and the department.
Costs for the luncheon are $20 for members, $25 for guests; the buffet line opens at 11:30 and the meeting will start at noon.
Online ticket sales are now closed. You may show up and pay at the door.