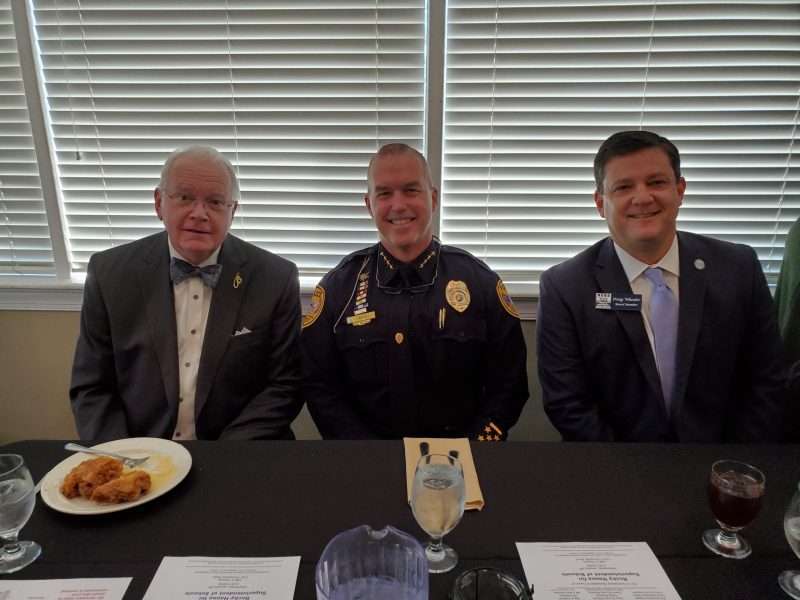 Estimaed Reading Time: 2 minutes
Posted On February 05, 2020
NEBA January Forum: City of Tallahassee Police Chief Lawrence Revell
The Network of Entrepreneurs and Business Advocates (NEBA) held its monthly membership meeting last Tuesday, January 28, featuring Chief Lawrence Revell, Tallahassee's new Chief of Police.
Before an impressive audience of more than 120 NEBA members and guests, Chief Revell shared his vision and proposed actions concerning the police department and our community. In his first three weeks, Chief Revell hired three deputy chiefs and has promoted four majors. Chief Revell announced that he and the Police Benevolent Association signed a "historic" Memorandum of Understanding allowing the department to begin promoting sergeants and lieutenants.
Also, Chief Revell shared that the department has recently hired 14 new officers, but that there are still 38 positions left unfilled. He expressed that current hiring requirements are too restrictive, and added competition is tough with the Sheriff's office to recruit talent across the southeast region. Revell explained he was looking at addressing some of the standards in order to give TPD every opportunity to recruit strong talent.  
Part of Chief Revell's vision is to open police precincts over the next 5-15 years. This explains, in part, why he is beefing up his command staff now in order to have a greater presence and continuity of protection across the city.
When asked about the crime rate, Chief Revell offered several insights:
The City is safe despite the stats. Chief Revell explained that the old way of collecting data and stats known as UCR has become outdated and is unreliable in its methods in rating crime. 
Certainly, there have been upticks in the buying and selling of drugs, namely marijuana-related crimes.
The community must address poverty as well as re-entry processes.  
Revell said 85% of property crimes can be reduced immediately if everyone would simply lock their cars. In the last 6 months, 53 guns were stolen out of 50 cars, with many being used in other crimes. 
Chief Revell also announced the soon to be Citizens Advisory Committee. It will not be an oversight entity, but rather a conduit of two-way dialogue between the police department and roughly 15-20 community leaders of the committee. Applications can be found on the police website.
Last, Chief Revell said that record sharing between TPD and the LCSO is unlike ever before, particularly the inclusion of video. This will keep the flow of information and records nearly in real-time and augment investigations.
Chief Revell is committed to bringing law enforcement together with the community at levels never seen before. He will rely upon his long-standing relationships and commitment to honesty and transparency to ensure that we all are working together "for the betterment of our community."