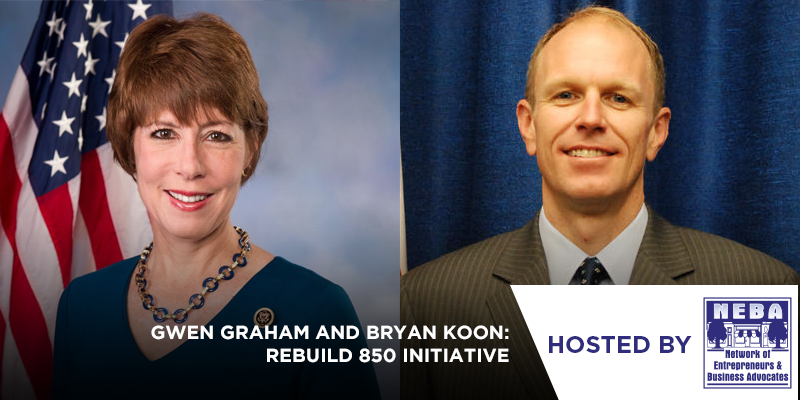 Estimaed Reading Time: 3 minutes
Posted On March 11, 2019
Gwen Graham and Bryan Koon Re-Cap: Rebuild 850
The Rebuild 850 Initiative aims to build resources for the Hurricane Michael recovery and keep media and national attention on the panhandle communities hit hardest by the devastating storm. Advocate and former congresswoman Gwen Graham and Bryan Koon, Director of Damage Assessment for Rebuild 850, presented at the February 26th meeting of Network of Entrepreneurs & Business Advocates (NEBA.)
During the presentation, Graham emphasized that a significant and long recovery will be required following the storm that hit on October 10th, 2018. Michael left 20,000 homeless and 40 lives were directly lost as a result of the ferocious winds and tornadoes. Thousands of North Florida residents remain displaced and many are living in tents. Homes, schools, business, hospitals, and municipalities are affected in large scale in our neighboring communities to the west. Damage totals across the 850 area code will exceed 5 billion dollars.
Immediately following the storm, former Florida House speakers Allan Bense and Will Weatherford formed Rebuild 850 in an effort to keep awareness on the disaster and build resources for the area. Following the conclusion of the 2018 election, Graham was approached to assist Rebuild 850, which covers much of her former 10-county district. Keeping awareness will be key and the media savvy Graham has been putting her star power to work which was evident with her charm and homespun humor during the meeting.
Mr. Koon detailed Hurricane Michael claims and compared them to Hurricane Irma, the most recent storm to affect the area prior to Michael. Hurricane Michael claims total 143,000 in excess of $5 billion with an average claim of about $39,000. This is approximately 4 times greater than that of Hurricane Irma. Koon further explained that recovery funding and support would come from insurance companies, state and local governments, FEMA, HUD, US Department of Agriculture, Department of Defense (for bases), other federal government agencies for roads and future storm mitigation, and it will require substantial support from private donations.
Koon underscored that the hardest time is when the media attention moves away from covering the disaster. New storms like Typhone Yutu and other headlines can slow recovery efforts, making the Rebuild 850 Initiative critical for North Florida. Graham praised her successor, Representative Neal Dunn, saying his efforts to help his North Florida constituents has been outstanding and surmised that most of his focus during his remaining tenure would likely be on securing recovery aid.
Cindy Lavoie, a NEBA member and owner of Interim Healthcare, explained she lost half her Panama City staff due to the vast residential home destruction and said many are having to drive from Dothan to see Bay County patients. In response, Koon said more temporary housing was coming but would be insufficient for the need.
A plea of support was made by longtime and founding NEBA member Peggy Munroe for members to help Rebuild 850. Graham closed with saying the best way to help is with donations, volunteerism, and by visiting and spending money in the areas hurting the most. She says despite the horrific damage, the area still offers so much to visitors and vacationers.
To learn more or to donate visit www.rebuild850.org. 
You can watch an edited video of the presentation below. Thank you to Will Haley for recording and editing the video and making it available to NEBA.
Below are pictures from the event.