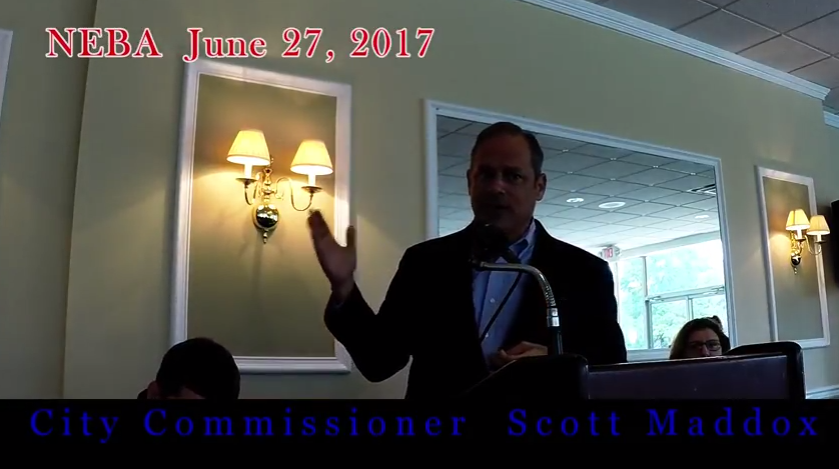 Estimaed Reading Time: 2 minutes
Posted On July 04, 2017
June 2017 Meeting Recap - Tallahassee City Commissioner Scott Maddox and Tallahassee Airport Manager Chris Curry
The Network of Entrepreneurs and Business Advocates (NEBA) held their monthly membership meeting on June 27, 12:00 pm – 1:00 pm at the Capital City Country Club. The featured speakers were City Commissioner Scott Maddox and Chris Curry, Airport Manager of Tallahassee International Airport.
They discussed the status of rail and air transportation in our community. Maddox revealed that there is a Gulf Coast Working Group which will report to Congress next month on reopening the section of the Sunset Limited Trail which closed after Katrina and ran from Tallahassee to New Orleans. However the current Administration's budget does not include any money for rail anywhere in the country, so he suggested we should call our members of Congress if we would like to see this service restored to our communities.
Curry reported on our airport's rehab, which included extension of runways and improvement of the TSA check points (which should reopen with 3 lanes in October). He also clarified that the decision to become an International Airport had many far reaching implications for our business community. The state's southern International Airports are at capacity, so Tallahassee is a welcome addition. Businesses interested in relocating and searching for places close to International Airports will now find Tallahassee in the mix. We are also now a Foreign Trade Zone, with easy access to I-10, so freight can be shipped in and trucked to its final destination. Overall Curry says the airport is 2/3 of the way through their 20 year master plan and they .e to provide an economic benefit to the area (est $453 million in 2017).
You can Watch an edited version of the meeting and see photos below.